Softver za CAD/GIS radni proces
Optimizirajte ispisivanje dokumenata velikog formata i upravljajte njime za CAD/GIS, internetsku i mobilnu namjenu.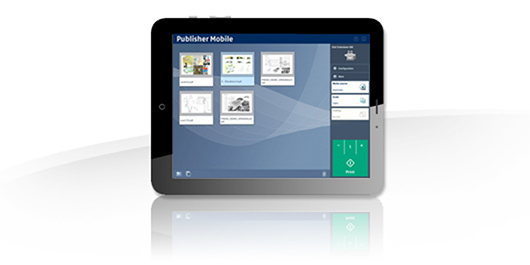 Canon Publisher Mobile
With Publisher Mobile, you can print your PDF*, DWF*, PLT (HPGL1/2), JPG, and TIFF documents to plotters using your iPad or iPhone. Reprint your documents, scale your plots, access the main settings, view the queue, media and ink/toner status of your plotter at any time. All this is available in 20 languages. All TCS, TDS, ColorWave and PlotWave models are supported.
*Dependent on your system configuration.
Prikaz detalja

Client Tools
The free Client Tools large format software suite helps you to prepare, preview, and submit technical documents to various destinations. You can use this plotter software for job submission to a single wide format printer, to an in-house print center or a remote job printer, and for digital uploading to online services. Client Tools wide format software maximizes printing convenience and efficiency by providing customers with a single user interface for all their day to day work, eliminating complexity and reducing time spent.
Prikaz detalja

Publisher Select 2
Unaprijedite radne procese uz Publisher Select 2. Brzo i jednostavno izradite, pripremite i ispisujte skupine tehničkih dokumenata na pisaču velikog formata - uz značajno povećanje ukupne produktivnosti ispisa.
Prikaz detalja

Repro Desk Studio
Repro Desk Studio large format software is an easy-to-use tool with a single, uniform user interface for printing to multiple destinations – local printers, central repro or even external print providers. It gives you true WYSIWYP – What You See is What You Print – viewing for pre print checking. Plus integrated print accounting for effortless tracking and allocation of print volumes and costs.

Account Center
Maximize your large format printing return on investment with Account Center. This unique cost allocation software tracks all activity on your wide format printing system. Monitor printing, copying and scanning and allocate costs to specific projects or departments. Convert your large format printing cost center into a profit center with Account Center.
Prikaz detalja

View Station
View Station is an easy-to-use image viewing and file handling software. It gives users a productive picture viewing tool to view, clean-up, edit and manipulate digital documents without the need to open the original applications.
Prikaz detalja

Wide Format Printer Drivers
The WPD is our preferred driver when it comes to printing to wide format printers from Windows applications.
Prikaz detalja
Srodni proizvodi i usluge
Srodne usluge
Poslovne usluge >
Želite proširiti poslovanje, povećati produktivnost, smanjiti troškove ispisa ili angažirati druge tvrtke za ispis i usluge vezane uz dokumente? Bez obzira na izazov s kojim ste suočeni, Canon vam prilagođenim uslugama može pomoći da ostvarite svoje ciljeve.
ili